Milton Theatre: ZombieFest 2017
10/19/2017 at 12:00 AM
Location: Milton Theatre
Address: 110 Union Street
Milton, DE 19968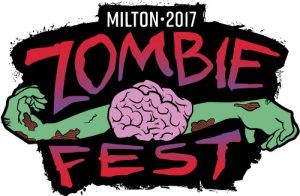 Milton Zombie Fest 2017 on October 19-21!
Join the picturesque town of Milton DE as we try to survive a weekend of haunting entertainment of epic proportions! What started as the "Zombie Walk" in 2014 has become a full blown "Zombie Fest" that will plunge the quaint historic town of Milton into an epicenter of the undead. Activities start on October 19 culminating to a full day event (12-10 PM) on October 21 at the Milton Historical Society open lot.
What started as the "Zombie Walk" in 2014 has become a full blown "Zombie Fest". Activities start on October 19 culminating to a full day event on October 21
A monstrosity of entertainment awaits people of all ages as we bring in mentalists, horror movies, live music and a host of other activities for a full weekend that is sure to stir the undead out of their graves! All proceeds will benefit The Milton Theatre, The Milton Historical Society, The Milton Fire Department, and Casa San Francisco Homeless Shelter.
October 19 (Thursday)
Revival House Theatre presents: "Oh The Horror!" featuring the screening of the cult classic "Trick'r Treat" and the original works of the finalists for the "7-Day Horror Trailer Challenge". Budding filmmakers will have a field day and a chance to win $1000! To join and for other inquiries, email the Revival House at therevivalhouse@gmail.com. Tickets to the event are 5$ for students and $10 for general admission, starts at 6:00 PM.
October 20 (Friday)
Nationally touring Nashville-based Dynamo will be back at the Milton Theatre! Formed in late 2012, Dynamo consists of nine core musicians. Whose music fuses jazz, rock, and funk with elements of soul and R&B. The culmination is a sound that's both spontaneous and composed—and an energy that's undeniably infectious! Tickets to the event are $15-20 and starts at 8PM.
October 21 (Saturday)
World renowned mentalist and thought reader The Amazing Kreskin will be at the Milton Theatre for 2 shows! With a showman's flair, a comedian's wit, and the capacities of a bona fide Mentalist, The Amazing Kreskin has, for six decades, dramatized the unique facets of the human mind…his own. His very name has become an integral part of pop culture throughout the world. Tickets sold at $20-30 with 2 shows at 2PM and 8PM.
Milton Zombie Fest (October 21)
It's going to be a full day of entertainment as the quiet town of Milton braces itself for the undead! Festivities start at 12PM with bands, food trucks, beer tents, vendors, makeup stations, games, street performers, and more! With the ZOMBIE WALK starting at 8PM that is open for everyone to join!
All genres of music will be presented as our line-up includes local and regional acts featuring, Margaret Egeln, The Milton Theatre's Triple Threat Ensemble, Ron Stretch Thompson, Bryan Scar, Scott Bloodsworth, Tyler Greene, Frankie Schline, Wild Virtu, Hoochi Coochi, and Electric Smoke.
Tickets to all Milton Zombie Fest 2017 events are available online at MiltonTheatre.com or by calling 302.684.3038. Wristband for the "Milton Zombie Fest" is $10 which includes whole day access to the event and the Zombie Walk. Tickets purchased for "Oh The Horror!", "Dynamo", and "The Amazing Kreskin" events includes a FREE wristband festival pass.
Looking for Vendors, Street Performers, and Volunteers!
We're looking for unique, quirky vendors, street performers, and volunteers for the festival! If you think you can add flair to the event or know someone interested, please contact the organizers at miltontheatreshows@gmail.com.
Follow the Milton Zombie Fest (@MiltonZombieFest) and The Milton Theatre's (@MiltonTheatreShows) official Facebook pages for the latest updates!
********************************************************************************