Mayor & Council
The Town Council is made up of a mayor and six council persons. Mayoral terms and council terms are for three years each. Town elections are the first Saturday in March from 8:00 a.m. to 6:00 p.m. Successful candidates are sworn in at the regular monthly meeting in April. At that meeting, the Mayor appoints a Vice Mayor, Secretary, and Treasurer.
Regular monthly council meetings are held the first Monday of the month at 6:30 p.m. at the Milton Library. The meeting time may be adjusted to allow for Public Hearings, if needed. An Open Forum session will be held near the beginning of the meeting for public participation and input. If the first Monday of the month is a town observed holiday, the monthly Council meeting will be held the second Monday of the month. A second monthly meeting may be held on the third Thursday of the month if deemed necessary.
Email the Council
---
Mayor & Council Members
Theodore "Ted" Kanakos, Mayor
Current Term 2019-2022
Email: mayorkanakos@ci.milton.de.us
Mayor Ted Kanakos began his professional life in 1967 as a Junior High School Social Studies teacher in Hyde Park, New York, before moving on, in 1970, to a career in the sales and marketing of medical equipment with firms located in Denver and San Francisco.
Moving back to New York (City) in 1980, Ted began a long and successful partnership with the New York City Landmarks Commission as the C.E.O. of a small construction company restoring historically significant homes in Landmark neighborhoods.
Mayor Kanakos has been a member of, and held numerous leadership positions, in non-profit and community organizations.  After selling his company he retired to Lewes in 1996 where he was the co-founder, vice president and director of education for the Overfalls Maritime Museum Foundation. He has also lectured extensively on the role of lightships in the U.S. maritime history and written for the Lewes Historical Societies annual review.
Moving to Milton in 2003, Mayor Kanakos became interested in Town government and has served twice on the Planning and Zoning Commission, on the Board of Historic Preservation and the Ordinance and Review Committee.  Ted was elected to the Milton Town Council in 2015 and elected Mayor in 2016.
Mayor Kanakos ran on a platform dedicated to improving the quality of life for all Milton residents and is dedicated to open communication with regards to all aspects of town management. As Mayor he welcomes your comments and attendance at all Town events, Committee and Town Council meetings.
George Kevin Kelly, Vice-Mayor
Current Term 2018-2021
Email: councilmankelly@ci.milton.de.us
George Kevin Kelly, known as Kevin as long as he can remember, given that his Dad's name was George, was born at the Patuxent River Naval Air Station in November 1950. He is the eldest son of George Robert and Marguerite Ann Kelly. In 1972, he and Joy married. Together they raised three wonderful children and are lucky grandparents to three wonderful grandchildren.
Kevin spent the first 12 years of his life moving from one naval air station to another, from west coast to east and then from east coast to west. During that time he assumed every child in America moved from one place to another every two years…everyone he knew did, of course! In 1964, his family moved to Fairfax, Virginia; it would be his home for the next 53 years. Upon graduation from the George Washington University in 1972, Kevin was hired as a high school history teacher in the Fairfax County Public School system. Joy also enjoyed a distinguished professional career in FCPS working at the highest levels of school system administration. Kevin served on many academic committees and as the Department Chair for Social Studies at two Fairfax County high schools. He coached football, basketball, field hockey and soccer, where his teams won back to back Regional Championships and sponsored student government, classes and clubs for many years. He served as an adjunct professor for George Washington University and George Mason University leading teacher training programs and Glasser Seminars for professional educators on multiple occasions. He co-founded the Association of Fairfax Professional Educators and was named the Fairfax County Teacher/Historian of the Year by the The United States Capitol Historical Society.
Upon retirement from the Fairfax County Schools, Kevin and Joy began looking for a new place to live. Given Joy's family experience in southern Delaware, they decided to drive through Sussex County on the nearest state road west of Route 1. In Milton, of course, that road is known as Union Street. Joy and Kevin drove into Milton, joined the Historical Society that day, returned to Milton several times before deciding that it was the place for them.
Kevin substituted in the Cape Henlopen school system, helped coach the soccer team at Mariner and became a member of the Milton Historical Society Board of Trustees. He founded the MHS Education Committee and was named the Interim Director on three different occasions. Joy found her way to the Children's Beach House in Lewes, where she worked for several years doing just about everything just about all the time. Kevin became a member of the Milton Historical Preservation Commission a few years ago and, less than a year ago was appointed to the Milton Town Council and serves on the Personnel Committee.
You hear stories all the time about how hard it is to be part of a small town as a new comer. Not true for Milton! It has always astounded both Joy and Kevin how welcoming Milton has been to them and how easy it has been to call Milton home!
Richard Baty, Treasurer
Current term 2020-2023
Email: councilmanbaty@ci.milton.de.us
Richard Baty was born and raised in North Bergen, New Jersey.  He is married to Eileen and has 5 children, one deceased. After graduating from Cliffside Park HS, he enlisted in the U.S. Army and served 3 years in the U. S. Army Corps of Engineers.  He served time in Korea.
Coming back home, he enrolled in Programming School and attended Fairleigh Dickinson University at night. The majority of his working career was in the Information Technology field for the Advertising Industry in New York City.  His first IT job was at Loew's Theatre and Hotels, where he rose to be the Programming Manager.  From there he moved to Kraft Corporation to be their Manager of Operating Systems for the Sealtest Division located in Manhattan, NY.
When Kraftco relocated their IT operations to Chicago, Richard chose to stay working in New York City and took the job managing and expanding IT operations for 18 years with Compton Advertising ( later merged with Saatchi and Saatchi) and rose to the position of Senior Vice  President of Information Systems and Communications.
He traveled extensively supporting Compton's companies in San Juan, Puerto Rico, Rochester, NY, Boston, MA, Chicago, IL, Indianapolis, IN, Dallas, TX , Orange County, CA and London, England.
When Saatchi and Saatchi moved operations of out NYC, Richard took the position of Vice President of Information Systems for Grey Advertising in New York.
He retired and relocated from living in New Jersey to Pocono Pines, PA.  There he obtained a Real Estate license and sold Real Estate for 8 years in the Lake Naomi-Timber Trails vacation community.
Richard and Eileen with their youngest daughter lived in Mt. Pleasant, SC for 8 years, but moved back North to Milton to be closer to the rest of their family. Prior to being elected as Council member in 2017, Richard served on the Streets and Sidewalks Committee and the Planning and Zoning Commission.  Currently, he serves as the Town Council Secretary and Treasurer, and the Chairman of the newly constituted Finance Committee.
Michael Cote', Councilman
Current Term 2019-2022
Email: councilmancote@ci.milton.de.us
Councilman Cotes' interest in Milton government was spurred by attending Town Council meetings, hearing about the accounting related issues.  Mr. Cote' worked for a major CPA firm in New York,  went on to be a corporate auditor in the banking industry and major manufacturers; was a Budget Manager for a Fortune 100 conglomerate, Division Controller for the conglomerate;  Controller for a large multi-division direct mail firm and an accounting consultant to AT&T, Pfizer and Astra Zeneca.
During his years as Councilperson and Town Treasurer, Milton has had successful clean audits and Milton's financial position has strengthened.  Mike has worked with the acting Town Manager to continue the improved and improving financial operations.
James "Sam" Garde, Secretary
Current Term 2019-2022
Email:councilmangarde@ci.milton.de.us
Mr. Garde was raised in Brooklyn, NY, earned a Congressional Appointment to the US Naval Academy and graduated in 1963. After almost ten years of service in the Navy's nuclear submarine program, including 9 Polaris patrols, Mr. Garde worked for two large engineering & construction firms specializing in power generation projects. For Ebasco Services in NYC, he had assignments in Project Engineering and International Business Development in addition to being the Project Manager for a large co-generation project. For Bechtel Corporation, he had assignments as Project Development Manager and Engineering Manager. One of his most rewarding assignments involved providing temporary housing for victims of Hurricane Katrina in Mississippi. He brings attention to detail, preparation for meetings, and a common sense approach to problem solving to his position on the Milton Town Council.
Mr. Garde currently serves as a member of the Charter & Ordinance Committee, the Water Committee, and the Personnel Committee, and as Chairman of the Water Infrastructure Land Acquisition Committee. He also serves as the Secretary of the Town Council.
Randi Meredith, Councilwoman
Current Term 2020-2023
Email:councilwomanmeredith@ci.milton.de.us
Randi Meredith is a graphic designer and illustrator serving as Councilwoman for the Town of Milton.
Originally from Shamokin, PA—a mountainous coal-mining city in central Pennsylvania—Randi is the middle child of three raised by her mother, Melody, an AICU nurse. Randi has always been artistic and proclaimed in Kindergarten that she would be an artist when she grew up. She does not like writing about herself in the third person and "Randi" is not short for anything.
Randi graduated from Shamokin Area High School in 1999 and quick-as-a-bunny moved to Chestnut Hill, PA—a Philadelphia neighborhood—to earn her Associates Degree in Commercial Art.
Randi then moved to King of Prussia, PA to an apartment adjacent to the Valley Forge National Historical Park and worked in West Conshohocken, PA at a small—but massively productive—signage company as a Production Designer. Randi enjoyed the hands-on craft of sign making, reading blueprints on job sites, and using & maintaining two laser engravers, but she found after several years that she needed to pursue a more creative path. So she returned to school full-time as a 26-year-old non-traditional student, to the rural and scenic Kutztown, PA. Four years later, Randi graduated Summa Cum Laude having earned her BFA in Communication Design from Kutztown University of Pennsylvania.
Upon graduation in 2010, Randi moved to Milton, Delaware to live with her covivant Eban Brittingham—whom she had met at the annual Bridge Day event in West Virginia, where they watched a mutual friend BASE jump off the New River Gorge Bridge. Randi and Eban circumnavigated the globe and then purchased a burned and abandoned historic property in Milton that they—mostly Eban—completely rebuilt in about 2.5 years with serious hard work and the generous help of their friend Jeremiah, Randi's parents—Melody and Randy Derr, and Eban's father—Bob Brittingham.
Randi commuted to Pennsylvania to work at a design firm and would stay in a hotel if she worked too late, until the night she was eaten alive by bedbugs and had to throw away her suitcase and all its contents. She decided in the car on the ride home, that the work she was doing could be done just as well and certainly more easily from a home office. So she started her own small business and has been working remotely on projects for local, national and international businesses since. Randi's work has been featured in graphic design textbooks and on reputable design blogs.
When Randi isn't hard at work, she's hard at play with her daughters, Pepper & Azalea.
Some of her priorities on Town Council are:
•    Pedestrian-friendly improvements
•    Welcoming back Zombie Fest
•    Addressing any lack of diversity on the council at every election
Randi loves to hear new creative ideas and welcomes yours.
Email the Council
Current and Past Mayors:
Photo courtesy: Gary Cooke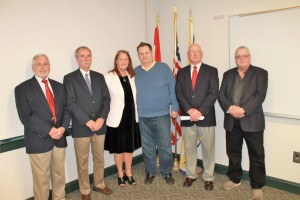 Pictured from left to right: Mayor Ted Kanakos, Past Mayor John "Jack" Hudson, Past Mayor Marion Jones,
Past Mayor Don Post, Past Mayor John "Jack" Bushey, and Past Mayor Clifford Newlands
Not pictured: Past Mayor Ruth Batten and Past Mayor Bill Post