Mayor & Town Council
The Town Council is made up of a mayor and six council persons. Mayoral terms and council terms are for three years each. Town elections are the first Saturday in March from 8:00 a.m. to 6:00 p.m. Successful candidates are sworn in at the regular monthly meeting in April. At that meeting, the Mayor appoints a Vice Mayor, Secretary, and Treasurer.
Monthly council meetings are held the first Monday of the month at 6:30 p.m. at the Milton Library. The meeting time may be adjusted to allow for Public Hearings, if needed. An Open Forum session will be held near the beginning of the meeting for public participation and input. If the first Monday of the month is a town observed holiday, the monthly Council meeting will be held the second Monday of the month. Additional meetings may be held during the month if deemed necessary.
Email the Council
---
John Collier, Mayor
Current Term 2022-2025
Email:mayorcollier@ci.milton.de.us
John Collier is a resident of Delaware since 1957, oldest son of a military family, who grew up in Wyoming, DE. He is married to Milton native Cathy Reed Collier. He and Cathy returned to her hometown of Milton in October 2001. John's work history spans 45 years of public service including 39 years and 5 months with the Delaware Department of Transportation retiring as an Engineering, Planning and Surveying Technician V and the agency's Geodetic Control Coordinator. Upon retirement, he served the Town of Milton for 5 years 7 months as the Project Coordinator before entering retirement again.
In addition to employment with the Town, his experience within Town government is diverse having served as Chairman and a member of the Board of Adjustment and Historic Preservation Commission; a member of the Charter and Ordinance Review Committee; and member of the Town Council 2013-2014 all while part of the Streets and Sidewalks, Water, Personnel and Charter and Ordinance Committees during that time. In 2014, John resigned from Town Council to pursue an employment position with the Town of Milton.
John Collier is firmly focused on the future of Milton while respecting its past and heritage. He pride himself on being responsive and always available to  constituents.
---
Randi Meredith, Vice Mayor
Current Term 2020-2023
Email:councilwomanmeredith@ci.milton.de.us
Randi Meredith is a graphic designer and illustrator serving as Councilwoman for the Town of Milton.
Originally from Shamokin, PA—a mountainous coal-mining city in central Pennsylvania—Randi is the middle child of three raised by her mother, Melody, an AICU nurse. Randi has always been artistic and proclaimed in Kindergarten that she would be an artist when she grew up. She does not like writing about herself in the third person and "Randi" is not short for anything.
Randi graduated from Shamokin Area High School in 1999 and quick-as-a-bunny moved to Chestnut Hill, PA—a Philadelphia neighborhood—to earn her Associates Degree in Commercial Art.
Randi then moved to King of Prussia, PA to an apartment adjacent to the Valley Forge National Historical Park and worked in West Conshohocken, PA at a small—but massively productive—signage company as a Production Designer. Randi enjoyed the hands-on craft of sign making, reading blueprints on job sites, and using & maintaining two laser engravers, but she found after several years that she needed to pursue a more creative path. So she returned to school full-time as a 26-year-old non-traditional student, to the rural and scenic Kutztown, PA. Four years later, Randi graduated Summa Cum Laude having earned her BFA in Communication Design from Kutztown University of Pennsylvania.
Upon graduation in 2010, Randi moved to Milton, Delaware to live with her covivant Eban Brittingham—whom she had met at the annual Bridge Day event in West Virginia, where they watched a mutual friend BASE jump off the New River Gorge Bridge. Randi and Eban circumnavigated the globe and then purchased a burned and abandoned historic property in Milton that they—mostly Eban—completely rebuilt in about 2.5 years with serious hard work and the generous help of their friend Jeremiah, Randi's parents—Melody and Randy Derr, and Eban's father—Bob Brittingham.
Randi commuted to Pennsylvania to work at a design firm and would stay in a hotel if she worked too late, until the night she was eaten alive by bedbugs and had to throw away her suitcase and all its contents. She decided in the car on the ride home, that the work she was doing could be done just as well and certainly more easily from a home office. So she started her own small business and has been working remotely on projects for local, national and international businesses since. Randi's work has been featured in graphic design textbooks and on reputable design blogs.
When Randi isn't hard at work, she's hard at play with her daughters, Pepper & Azalea.
Some of her priorities on Town Council are:
•    Pedestrian-friendly improvements
•    Welcoming back Zombie Fest
•    Addressing any lack of diversity on the council at every election
Randi loves to hear new creative ideas and welcomes yours.
---
Richard Baty, Treasurer and Secretary
Current Term 2020-2023
Email: councilmanbaty@ci.milton.de.us
Richard Baty was born and raised in North Bergen, New Jersey.  He is married to Eileen and has 5 children, one deceased. After graduating from Cliffside Park HS, he enlisted in the U.S. Army and served 3 years in the U. S. Army Corps of Engineers.  He served time in Korea.
Coming back home, he enrolled in Programming School and attended Fairleigh Dickinson University at night. The majority of his working career was in the Information Technology field for the Advertising Industry in New York City.  His first IT job was at Loew's Theatre and Hotels, where he rose to be the Programming Manager.  From there he moved to Kraft Corporation to be their Manager of Operating Systems for the Sealtest Division located in Manhattan, NY.
When Kraftco relocated their IT operations to Chicago, Richard chose to stay working in New York City and took the job managing and expanding IT operations for 18 years with Compton Advertising ( later merged with Saatchi and Saatchi) and rose to the position of Senior Vice  President of Information Systems and Communications.
He traveled extensively supporting Compton's companies in San Juan, Puerto Rico, Rochester, NY, Boston, MA, Chicago, IL, Indianapolis, IN, Dallas, TX , Orange County, CA and London, England.
When Saatchi and Saatchi moved operations of out NYC, Richard took the position of Vice President of Information Systems for Grey Advertising in New York.
He retired and relocated from living in New Jersey to Pocono Pines, PA.  There he obtained a Real Estate license and sold Real Estate for 8 years in the Lake Naomi-Timber Trails vacation community.
Richard and Eileen with their youngest daughter lived in Mt. Pleasant, SC for 8 years, but moved back North to Milton to be closer to the rest of their family. Prior to being elected as Council member in 2017, Richard served on the Streets and Sidewalks Committee and the Planning and Zoning Commission.  Currently, he serves as the Town Council Secretary and Treasurer, and the Chairman of the newly constituted Finance Committee.
---
Lee Revis-Plank, Councilwoman
Current Term 2021-2024
Email:councilwomanrevis-plank@ci.milton.de.us
Lee Revis-Plank is a Delaware native and a descendent of a Delaware Revolutionary War veteran from Selbyville and of a family of strong women. Her own daughter lives nearby in Lewes.
She grew up in Wilmington and graduated from Wilmington High School and the University of Delaware with a BA in Psychology and M. Ed in Leadership.
She worked in corporate America for 45 years and retired from two Fortune 100 companies, DuPont and Bank of America, where she was a Vice President and project manager. Since retiring to Milton, she has served on the Wagamons West Shore Civic Association Board, the Board of Trustees and as Interim Executive Director of the Milton Historical Society (MHS), and the Board of Trustees of Preservation Delaware, Inc. She steps away from the Town of Milton Historic Preservation Commission as the Education Chairwoman to serve on Town Council.
Lee is a historian at heart and volunteered as an historical interpreter at Fort Delaware with her daughter for several years. She has demonstrated a deep appreciation for Milton's history and pledges to widen and deepen it through appreciating the contributions of all Miltonians. Lee is very proud of her leadership and vision in initiating the recent MHS exhibit, "Walking Into Greatness" a biography of Milton native Bryan Stevenson.
Lee believes in taking an active role in her community and offering her skills and experience for the betterment of the greater whole.
---
Larry Savage, Assistant Treasurer
Current Term 2022-2025
Email: councilmansavage@ci.milton.de.us
Mr. Savage is a resident of Milton since 1976, and married to his wife Vermella for 35 years.  Larry served in the United States Army. In addition, his service has extended to the Town's Board of Adjustment and Board of Elections. Mr. Savage has financial experience in both his professional and volunteer capacity. He retired from Wilmington Trust after 39 years of service, and 10 years' service as Treasurer of the Milton Community Foundation. Currently, Larry serves on the Advisory Committee on Aging and Physical Disabilities for Sussex County 3rd District.
He looks forward to serving the residents of the Town.
---
Annette Babich, Assistant Secretary
Current Term 2022-2025
Email:councilwomanbabich@ci.milton.de.us
Annette Babich is an accomplished event management executive and serving as Councilwoman for the Town of Milton.
Born in the Philippines, Annette landed in New York City in 1972. She lived in Queens with her parents and older brother until 1977 when they moved to Long Island. Her family lived in Long Island until 2010.
Annette attended New York University where she earned her BS in Accounting in 1988. After working in corporate America for several years and feeling unfulfilled, she started her event management company. For the next 26 years, she successfully managed an end to end event production company and targeted Fortune 500 companies, C-suite, high profile, and high net-worth clients. She operated her business until 2018. She now works as head of events for a New York financial firm, where she works remotely.
She has served on the Board of Directors of the Long Island Music Hall of Fame, Long Island Chapter Leader of the Association of Bridal Consultants and also served as Vice President of the Garden City Historical Society. She was a member of the International Special Events Society and National Association of Female Executives. Annette was honored and received the Excalibur Award by the Excalibur Society in 2012 for her hospitality and service excellence.
Annette has appeared in a number of publications including: Town & Country, Quest, Time Out NY, Modern Bride, The Knot, Wedding Bells, Distinction Magazine, Esquire, New York Times and Newsday. She appears in the book "City Wedding" by Joan Hamburg and has been featured in the Japanese Television news show segment "Oh My New York".
She was an Adjunct Professor at New York University for five years teaching Special Events Management and The Art of Wedding Planning, a course that she also created the curriculum.
Annette moved to Milton in December, 2018 from Brooklyn. She quickly got involved in the town volunteering at the Irish Eyes St. Patrick's Day Parade and serving as co-chair for the Milton Historical Society Annual Cook-off. She currently serves on the Board of Directors of the Milton Theatre.
Annette and her partner, Mal Meehan created their own non-profit in 2019, Dog Days of Summer Festival. To date, they raised over $15,000 for local charities.
Annette loves Milton and is excited to serve the town. Her priorities include * Develop and promote Milton for commercial growth
* Grow arts and culture
* Maximize impact of events in town
She looks forward to connecting with the community.
---
Frederick Harvey, Councilman
Current Term 2022-2024
Email:councilmanharvey@ci.milton.de.us
Frederick Harvey is a lifetime resident of Milton.  He is married to Thelma and has two sons and a daughter.  Frederick attended school in the Cape Henlopen School District. After 22 years, Frederick retired from working for the Cape Henlopen School District; he has also been a part-time Bus Driver for the District for 30 years and continues to drive.
Frederick is a Lifetime member of Milton Fire Department Station 85. He actively holds the position as Fire Police and assists with emergency situations.
Frederick founded and directed The Boys To Be Men Club at Milton School to work with young boys that needed coaching in school.  He assisted them when
they struggled with behavior issues as well as classroom assignments. He also coached the Middle School Boys Basketball Team for 10 years.
Frederick is a dedicated member of CLJC Church for sixty plus years.  He was the President of the Young Peoples Department, and directed the Church Choir for many years. He presently assists with Church maintenance. Frederick worked with his Father in the studio/ engineering at the Church until his father transitioned this life.
Frederick helped manage The Slam Dunk on the Beach, a national Basketball Tournament held yearly at the Cape Henlopen School in Lewes, serving from 1992-2004. He is certified in the following: Active Shooter Operation, Rescue Task Force, Sexual Harassment and Discrimination, and a Delaware Alcohol Beverage Server. Frederick serves on several committees at Station 85 Fire Department, such as: Chairperson of Grievance and Conflict, Chairperson  of Parade committee (Town Events), Truck Committee, Dinner and Entertainment committee, Ways and Means committee, Fire Prevention committee, and the Alcohol and  Beverage committee.
---
Email the Council
Past Mayors:
Photo courtesy: Gary Cooke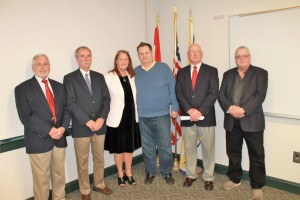 Pictured from left to right: Ted Kanakos, John "Jack" Hudson, Marion Jones,
Don Post, John "Jack" Bushey, and Clifford Newlands
Not pictured: Ruth Batten and Bill Post